"Welcome to New Palestine Family Dentistry! Dr. Vanessa Lee and her Team have been serving the New Palestine community for nearly 20 years. We are committed to providing you and your family with compassionate and quality care while using the most advanced technology and procedures available.
At NPFD, your smile and dental health is important to us. We offer general and cosmetic treatments to enhance your smile as well as educational and preventative services for you and your children."
Thank you for choosing New Palestine Family Dentistry, contact us with any questions.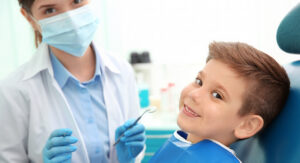 We strive to make your experience here at New Palestine Family Dentistry as stress-free and enjoyable as possible. For the families that come to our practice we have a convenient kids playroom so the kids can keep occupied while mom or dad are having dental work done. We also offer face-painting for kids that have a great visit at the dental office. These are some of the little things we do for our patients to show that we appreciate their patronage. Do you or someone you know speak Spanish? We offer translation services to our clients who are native Spanish speakers.